Event Expired.
Sorry, Event has been expired.
Decolonize Birth: Addressing the Criminalization of Black and Brown People…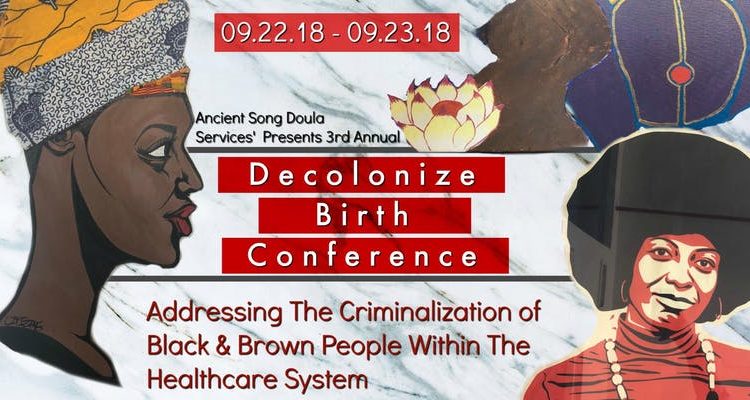 This conference seeks to examine the various way that providers, reproductive justice advocates, and birth justice advocates has addressed the needs within their respective communities using a collaborative care framework. Allowing their work to address a wider population while still making a significant change that can be reflected qualitatively and quantitatively. It also seeks to go beyond the limits of statistics and find how individuals and groups choose to examine the intersections of care and challenge the current healthcare system.
Main Objectives:
Provide a landscape for open dialogue and exchange
Examine concrete methods for change in reproductive health
Address how Trauma and Oppression have influenced reproductive health choices and sparked a need for more collaborative care
Provide a platform for community based organizations to network and exchange equitable ways to address lack of resources within respective communities and shift the narrative
Conference ticket prices include:
2-day conference entry
Saturday & Sunday breakfast & lunch
Swag Bags!
Click here to checkout our website and share!
Event Policies
All fees are in USD.
Conference ticket passes are non-refundable, however, are transferable before September 1st, 2017. Please email info@ancientsongdoulaservices.com with any questions attn: Decolonize Birth Team
The conference program is subject to change without advance notice.
Sections of this event will be live-streamed, photos and videos will be taken.
Ancient Song Doula Services and Decolonizing Birth Conference reserves the right to use any photograph/video without the expressed written permission of those included within the photograph/video. Ancient Song Doula Services and may use the photograph/video in publications or other media material produced, used or contracted by Ancient Song Doula Services including but not limited to: brochures, invitations, books, newspapers, magazines, television, websites, etc.